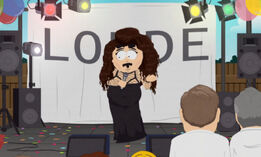 Randy Marsh is a character from South Park. In an episode of the show he pretends to be Lorde, which turned into a huge meme in the Lorde fandom, which ended up in Lorde singing "I am Lorde ya ya ya" on an interview.
Background
In the episode "Gluten Free Ebola" of South Park, a character named Randy Marsh impersonates Lorde at a backyard party, singing "I am Lorde, ya ya ya". Lorde sang this on an interview. She also said "I was thinking, 'Yeah he has a mustache...I mean I have a mustache, but is it that prominent?"
Ad blocker interference detected!
Wikia is a free-to-use site that makes money from advertising. We have a modified experience for viewers using ad blockers

Wikia is not accessible if you've made further modifications. Remove the custom ad blocker rule(s) and the page will load as expected.